WhaleLive Adds Revry's Popular LGBTQ+ Streaming Channels, Bringing Diverse Entertainment to Audiences Around The World
WhaleLive Adds Revry's Popular LGBTQ+ Streaming Channels, Bringing Diverse Entertainment to Audiences Around The World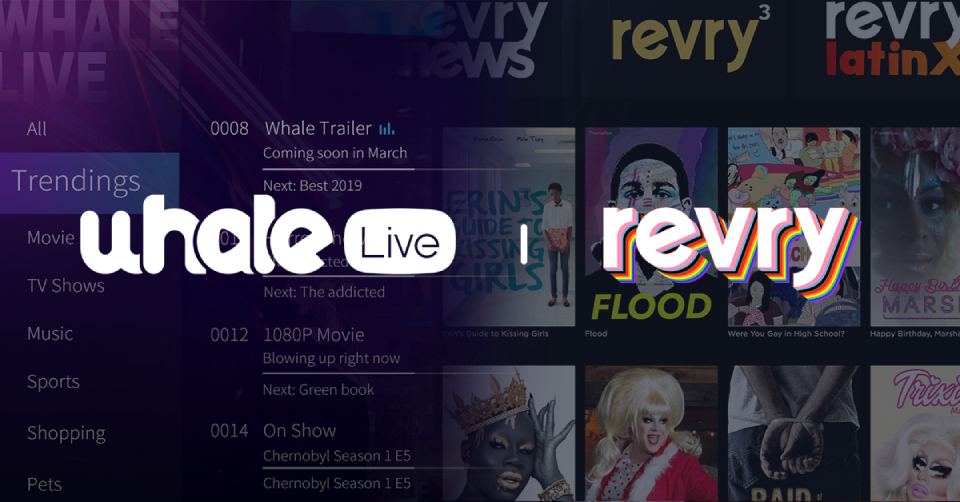 Los Angeles, March 23, 2022 - ZEASN, the world's leading provider of OTT and smart TV solutions, is pleased to announce the partnership with Revry, the global LGBTQ-first streaming media network. The deal encompasses the launch of the popular Revry streaming channels on ZEASN's free ad-supported live streaming service WhaleLive, and to make the Revry apps available on tens of millions of Whale Eco enabled smart devices all over the world.

Headquartered in Los Angeles, CA, Revry is an LGBTQ-first network that is built for the community. Revry encourages exploration of its channels and on-demand movies, shows, music, podcasts, news, and exclusive originals with authentic content across numerous households and devices. Revry is led by a diverse founding and execute team who bring decades of experience in the fields of tech, digital media, and LGBTQ+ advocacy.

Through this association, WhaleLive is expanding its digital offering with 6 new free live streaming channels focused on the LGBTQ+ community. The Revry live TV channels on WhaleLive includes Revry (Revry 2), Revry Music, Revry News, Revry Brazil, OML and Revry LatinX. Revry is proud to have released more than a dozen Originals since the beginning of 2017 including their full-length TV series, Submission Possible, BIFL, and specials including House of Pride, QueerX to name a few. In addition, OML on Revry is the first 24/7 live TV channel catering to queer womxn which includes those who identify as lesbian, bi, trans female, gender non-binary and queer.

Launched in August 2020, WhaleLive is a 100% free live streaming and VOD (video on-demand) service, the ad-supported platform provides viewers with a wide range of diverse and entertaining content. With WhaleLive viewers can dive into their favorite channels through popular categories in news, lifestyle, tv&movies, music, kids, sports, entertainment, comedy and more on their smart TVs. WhaleLive features a streamlined interface, convenient EPG and the ability to allow viewers to easily find their favorite contents.

Commenting on this cooperation, Thomas Li, ZEASN Regional Director for Europe & LatAm said, "It is great to partnering with Revry to bring more channels on WhaleLive and this aligns with our goal of better servicing global audiences with diversified preferences." He further added, "Sustaining an inclusive and various content portfolio lays a solid foundation for effective delivering and accurate targeting of our value-added services, which contributes to the optimal outcomes for all our partners in Whale Eco."

Revry CEO and co-founder Damian Peliccione added, "We are thrilled to be partnering with Zeasn, further expanding our reach and connection to consumers. At Revry we are committed to sharing authentic content from our community identifying as queer, LGBTQ, ally or anywhere across the spectrum. It is our goal to inspire exploration and continue to share our community's stories by working with such amazing brands such as Zeasn."

About Revry
Revry is the LGBTQ-first streaming media network with over 5,000 titles on free live TV, movies, series, news and exclusive Original programming. Its mission is to inspire exploration of LGBTQ content for the community and allies. Revry is led by a diverse founding team with technology, digital media, and LGBTQ advocacy experience. Revry reaches millions of global viewers on connected TV, Smart TV, OTT and mobile platforms including Samsung, Vizio, Roku, Apple, Comcast Xfinity, Cox Communications, Google, TiVo, and many others.


About ZEASN:
ZEASN is a leading technology company headquartered in Singapore. With a focus on the connected TV ZEASN is a prominent technology company headquartered in Singapore, specializing in providing innovative solutions for the connected TV (CTV) industry. With a strong focus on developing advanced operating systems, content aggregation platforms, and advertising solutions, ZEASN empowers content providers, device manufacturers, and service operators to deliver immersive and personalized experiences to viewers worldwide.
ZEASN's flagship product, the Whale OS, is a cutting-edge CTV operating system that offers a comprehensive and seamless platform for smart TVs and other connected devices. With its robust features, including a user-friendly interface, extensive app ecosystem, and powerful content discovery capabilities, Whale OS enables users to access their favorite content with ease and efficiency.
Recognizing the importance of content aggregation in the rapidly evolving CTV landscape, ZEASN has established itself as a key partner for content providers. By integrating with leading streaming services, broadcasters, and app developers, ZEASN ensures that viewers have access to a wide range of popular and niche content, all in one unified platform.
ZEASN's commitment to driving innovation and industry collaboration is reflected in its mission to provide a compelling alternative to the dominance of American giants such as Google, Roku, or Amazon in the CTV market. By offering an independent CTV OS and AVOD/FAST product, ZEASN aims to create a vibrant and competitive ecosystem that benefits all stakeholders, from content creators to advertisers and viewers.
For more information about ZEASN and its products, please visit www.zeasn.com.